The 60 Most Anticipated Films Of 2009
the ones i care about;
"Inglourious Bastards"
– Weinsteins/Universal - Dir. Quentin Tarantino

Synopsis: An elite team of Jewish American soldiers in WWII take on a covert mission to kill Adolf Hitler, but unbeknownst to them, the daughter of a slain French farmer is planning her own revenge.

What You Need To Know: Tarantino's war film is epic and could be one of the most outrageous WWII films ever made, not to mention his possible masterpiece, if he doesn't fuck up his brilliant and audacious script. Brad Pitt leads an eclectic, motley crue cast that features many foreign newcomers (Melanie Laurent, Jacky Ido, Christoph Waltz), old school actors (Cloris Leachmen, Rod Taylor), American comedians (BJ Novak, Samm Levine) and bold faced names (Diane Kruger, Mike Meyers) among many, many others. Plus the great Ennio Morricone is writing the score. Whoops, not anymore.

Release Date: August 21, 2009. It could show up at Cannes if completed in time.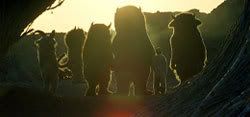 "Where The Wild Things Are"
- Warner Bros. - Dir. Spike Jonze
The long-awaited adaptation of Maurice Sendak's beloved children's novel might be the most highly anticipated film of all of 2009 and perhaps the most discussed and poured over. Starring 9-year-old newcomer Max Records and voiced by James Gandolfini, Lauren Ambrose, Catherine O'Hara and Forest Whitaker among others, the 'Wild Things' film, co-written by author Dave Eggers, had an extremely difficult and tempestuous birth, the battles of which spilled out into the public. Taking three years to make (not counting pre-production), an early 2008 test screening was so controversial, rumors swirled the film was going to be recut and or taken away from Jonze. The gossip turned out to be semi-true, but WB and the filmmaker got over their quarrel and the melancholy children's film could potentially be destined to become a classic. Yeah, Yeah, Yeah's singer Karen O is on music duty.

Release Date: October 16, 2009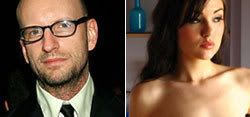 The Girlfriend Experience
- Magnolia Pictures - Dir. Steven Soderbergh
Synopsis: Five days in the life of an escort in New York City who offers the full "GfE".

What You Need To Know: This is a quickie effort for the prolific Soderbergh, part of his day-and-date six film contract with 2929 Pictures that previously released "Bubble." He's got glamorous gonzo porn star (stick with me) Sasha Grey to star, so he's not shying away from the more challenging aspects of making an American film that confronts sexual taboos head on. This will be at Sundance in January, so we'll get to see what the teaming of the most idiosyncratic filmmaker and most adventurous adult film star produces very soon. Grey has already starred in Jane's Addiction guitarist Dave Navarro's directorial porn effort, "Broken."

Release Date *Updated*: 'GFE' already was shot, so a spring release is not out of the question.
so yeah... 3/60. wow.
and HOW IN THE FUCK IS THIS ONLY IN THE "HONORABLE MENTION" SECTION?:
The great Alejandro Jodorowsky, director of the mind-bending freakhouse classics "The Holy Mountain" and "El Topo" directs his first film in nineteen years, the metaphysical gangster picture "King Shot," with a group of lunatics including Nick Nolte, Asia Argento, Marilyn Manson, Udo Kier and Mickey Rourke.