Micro-Reviews;
A SERBIAN FILM aka BABY'S DAY OUT 2

- 10/10
:
some of you people are seriously a bunch of fucking babies (no pun intended hyuk hyuk hyuk). Yeah, it's a mega-graphic sub-perverse angry fever-rape of a film, but snap the fuck out of it with the drama. in short; i loved it, even with the SCREENER crap everywhere. Love how progressively nightmarish it gets both in terms of the violence/sex as well as in the structure of the narrative, pacing of the direction, and the performances themselves. this is the film
Murder Set Pieces
wishes it could be.
BLACK SUN: THE NANKING MASSACRE

- 9/10
from the maker of
Men Behind the Sun
. i'm calling "Bayonet Cesarean" as a song title.
NUIT NOIRE

- 9/10
beautiful, eerie; the kind of pure dream logistics i can't get enough of. every frame is a work of art.
SPLATTER: NAKED BLOOD

- 8/10
a Suehiro painting brought to life. a must have for viscera nymphos.
THE HOWL

- 9/10
see what i said about
Nuit Noire
. plus no one films beautiful women quite like Tinto Brass.
THE KILLER INSIDE ME

- 8/10
another one that everyone had a period over. maybe it's just cause i'm sort of into "rough sex" both on a visual level and on a what-i'd-rather-be-doing-at-all-time-instead-of-this-bullshit level, so a little spanking and BCP really doesn't phase me... but it is totally hot. a nice lurid little pulp thriller with solid performances from anyone not named Jessica Alba (seriously... this bitch can't even be beaten to hamburger convincingly). I'll take Kate Hudson in this one, kthcbi.
GESTAPO'S LAST ORGY aka CALIGULA REINCARNATED AS HITLER

- 9.5/10
too much "FAP" for one hand. easily the best of the Nazi Exploitation genre.
THE GARBAGE PAIL KIDS MOVIE: THE MOVIE

- god i/s dead
if anything reaffirms atheism, it is the existence of THIS;
Obamama should use this track on the campaign trail, but i digress.
if you speculate long enough on why this movie was made, you may vomit lungs... and not your own. it's simply horrifying; creepily sub-decent in a manner even Peter Sotos wouldn't dare breach. it makes
Troll 2
look like the Cohen Bros. at their zenith. fuck, at least there were no sing-a-longs in Nilbog.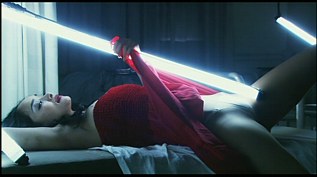 THE BRUTAL HOPELESSNESS OF LOVE

- 8.5/10
the sexiest Asian bug-fuck since
a Snake of June
. why can't we make intelligent films about sex in this country? oh i forgot, we're a bunch of giggling middle schoolers in a locker room. speaking of which...
ROB ZOMBIE'S HALLOWEEN 2

- less than nothing / even less than nothing
totally fucking stupid on every imaginable and unimaginable level. completely murders the mythology for no discernible reason. piss-weak plot, tacky use of pop music, nonsensical props and costumes that service Zombie's interests rather than the characters (something tells me Laurie Strode, a girl who was STALKED BY A MURDERER, would not have a Charles Manson poster adorning the wall above her bed). fuck, you know this already. i wouldn't even dip my balls in it.
continuing on a similar path;
A REMAKE ON ELM STREET

- even less than nothing / even less than less than nothing
crikey... none of this shit works at all. a profoundly abysmal script, muggy directing/cinematography, zero scares, zero fun, sub-memorable (yeah i like putting "sub-" in front of adjectives. deal with it), and bottom line; makes no fucking sense whatsover. none of the actors are convincing, especially Jakie Earle Haley; a fucking awful Krueger that possesses none of the sadistic menace or macabre playfulness that Englund brought to the role even in the franchise's silliest moments. but fucking hell... i'll take the New Nightmares and the "Final" Nightmares and the Dream Nightmares over this tampon cutter. shit, i'll take the 976-Evils over this pube-woven cock basket. also again they should've used
this song
. i know i already posted this in the previous entry, but it's just such an amazingly excellent idea that it bears repeating. and not some queer-ass ironic cover by some douchebag hipster band, only Gibson is real.
oh and anyone who bought those action figures is a fucking asshole.